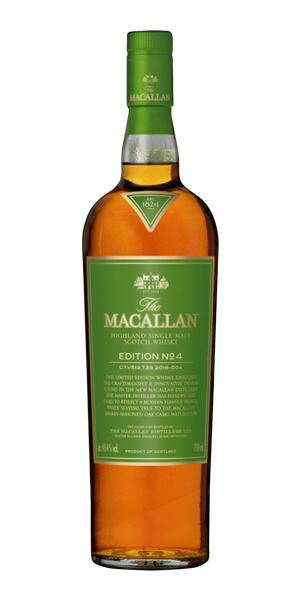 ABV: 48.4%

PRODUCTION TYPE: Single malt whisky

REGION: Speyside

FLAVOUR CAMP: Rich & Round
NOSE

Reassuringly complex, with lots of oak and wood spice at the fore, surrounded by sweet acacia honey and toffee. This alluring, zesty, citrus baked sweetness, like a lemon drizzle cake or key lime pie, is captivating. I could sit and nose this for hours.

PALATE

Cakey and nutty, muscovado sugar and black pepper. The wood's effect is very much apparent – fresh oak shavings and a polished sideboard – but it's not overdone. Sticky caramel and Jamaica ginger cake take centre stage as the wood spice builds. However, there's enough citrus zestiness – lime peel and orange juice – to keep the spark going.

FINISH

Is that a touch of smoke? Perhaps a heavy char. Either way, it lingers, with a chewy, sticky fruitiness, like reduced blood orange juice.

CONCLUSION

Edition No 4 is designed to showcase the 'structure' of Macallan. This is an absolute bargain. Just glorious.