Suntory created the surprise by unveiling two ultra limited edition of Hibiki 35 year old called Arita and Cuntani which release is scheduled for 2018.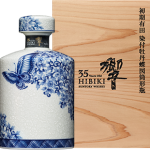 Hibiki, the most famous blended whisky from Japan, in its 35 year old version hasn't been bottled for several years, and due to the shortage of old and very old Japanese whiskies everybody feared to ever see again one day a bottle of this ultra premium shit.
As well as the previous versions, but also to honor and mark the 400th anniversary of the appearance of porcelain in Japan, Suntory has used the expertise of traditional ceramics producers in Arita and Kutani on the island of Kyushu.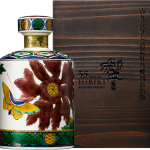 For the occasion, the craftsmen have created a traditional design which incorporates the typical shape of Hibiki blend bottles that combines drawings of peonies flowers, symbol of happiness and wealth, with butterflies which represent longevity.
Bottled unchillfiltered at 47% above volume, Hibiki 35 year old is a real blending jewel containing single malts and grain whiskies aged in different types of barrels such as Sherry, Bourbon and Mizunara casks the rare oak from Japan, whose ages range from 35 to 54 year old for the oldest one!
Only 150 bottles of each edition were produced and will be available just in Japan! Coming soon to a no reserve auction here at MyBottleShop.com.au
Sign up to the MyBottleShop wait list to get notified when the Hibiki 35 hits our shelf!